Wedding Cake, Birthday Cake, Cake Maker, Cake Designer, Swaffham, Norfolk, Celebrate, Celebrations, Bride & Groom, Bridal, Flowers, Icing, Sugarcraft, Cake Decorations, Bootees, Floral, Bouquet, Anniversary, Cookies, Cupcakes, Co-ordination, Christening, Invites, Handcrafted, Keepsake, Congratulations, Seasonal, Special Day, Peronal Service, Bead Garlands, Embellishment, Fondant, Occasion, Inspiration, Creative, Contemporary, Classic, Attention To Detail, Unique
  l Cakes For Every Celebration
 l Wedding Cakes with 'The Wow Factor'
 l Contemporary Sugar Floristry
  l Themed Hobby Keepsake Plaques
 l Bead & Wire Cake Jewellery
 l Cookies & Cupcakes!

 l National Sugarcraft Demonstrator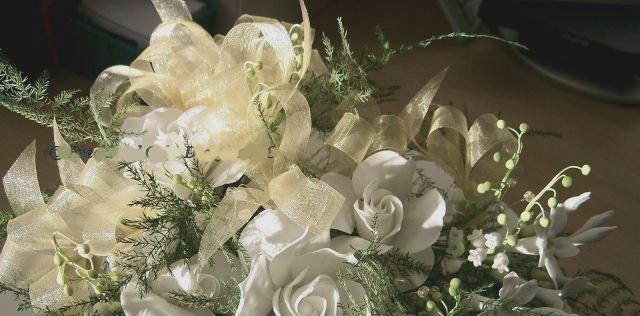 Site designed & maintained by Breckland Cake Design
© Copyright Breckland Cake Design 2013  All Rights Reserved

Planning Your Wedding? . . .

So, maybe you have booked the date and the venue? Whether you will be celebrating on a beach, in tranquil gardens, or in an elegant hotel, you will no doubt be thinking about what type of cake to have. You may need some help with how to decide on the design and flavours that suit your taste & style, taking into account the time of year, the location and the wedding theme.

Think about what you both like visually, then start by browsing our Wedding Page for inspiration. What is it that attracts you to each image and what would you like to change, to make it unique to you! Maybe your venue will have an influence on your cake. Maybe you already have a theme planned for your big day. Try and work out approximately how many guests will attend your wedding, to help us establish how many cake tiers you will need.
However you envisage your wedding and your cake, let us make your dream day even more magical by baking a memory which lasts a life time.
Once you have a date set, then it's best to either arrange a wedding consultation to discuss ideas, or you can choose to 'Save Your Date' simply by paying a small holding fee. This guarantees your wedding date and is no extra cost for you, as it will become part of your cake deposit. If you plan to get married during the peak wedding season, then it is highly recommended that you book your cake maker as soon as you can! Although it might seem a long way off, the time will go by so quickly.


Time seems to move on more quickly than ever and trends will constantly change, keeping us on our toes, but in this age of uncertainty & speculation we still embrace the opportunity to celebrate the good times with our loved ones.
A birthday, a family event, a personal achievement or a new venture, maybe a retirement or a wedding anniversary, are just some of the reasons which inspire us to plan a party and let our hair down. On a much grandeur scale, a wedding allows us to pull out all the stops and follow our dreams for that one very special day. Whatever the occasion, the cake gathers everyone together to share in the happiness of the event.
Situated in the heart of Norfolk, on the edge of The Brecklands, we are based in Swaffham. If you are looking for inspiration, then please take some time to browse the website for ideas, and, if you already know what you want & have a design in mind, then contact Ann to make it happen!
Individually created designs, from the simplest to the most complex, Breckland Cake Design has the experience & committment to turn your vision into reality, whatever the occasion.
An extensive choice of flavours & fillings is available. Cakes will normally be fondant iced & finished to a high standard of presentation, with outstanding attention to detail.
Our mouthwatering butter cookies come in various flavours, with an endless choice of designs. They are iced, decorated & packaged, either to reflect your wedding theme, or to provide a fun element for any other occasion. Just click on the relevant pages to find out more!